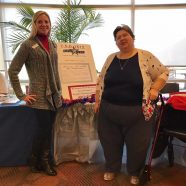 The ladies of the Captain William Magill Chapter were excited to participate in the 10th Annual Bucks County Ancestry Fair hosted by the Bucks County Genealogical Society & the Genealogical Society of Pennsylvania. This was our second year as an exhibitor sharing news and information about documenting early American ancestors.
The annual event features interesting speakers who cover general topics for beginnings and specialized subjects for more advanced researchers. The hosts also set up an exhibit area where attendees can learn more from various genealogy groups, lineage societies, and research sources in the region.
For those looking for more information on how to participate, visit the Ancestry Fair's website, www.ancestryfair.org.