Chapter President Connie Taylor acted as Chaplain at the Private Nathan Brooke grave marker dedication on June 11, 2016 at St. David's Church Yard in Wayne, Pennsylvania. The grave marking was done by Lynne Morrison Jensen, President of the War Hawks Chapter from Stuart, Florida. Jensen is a descendant of Pvt. Brooke and a former native of the Main Line area.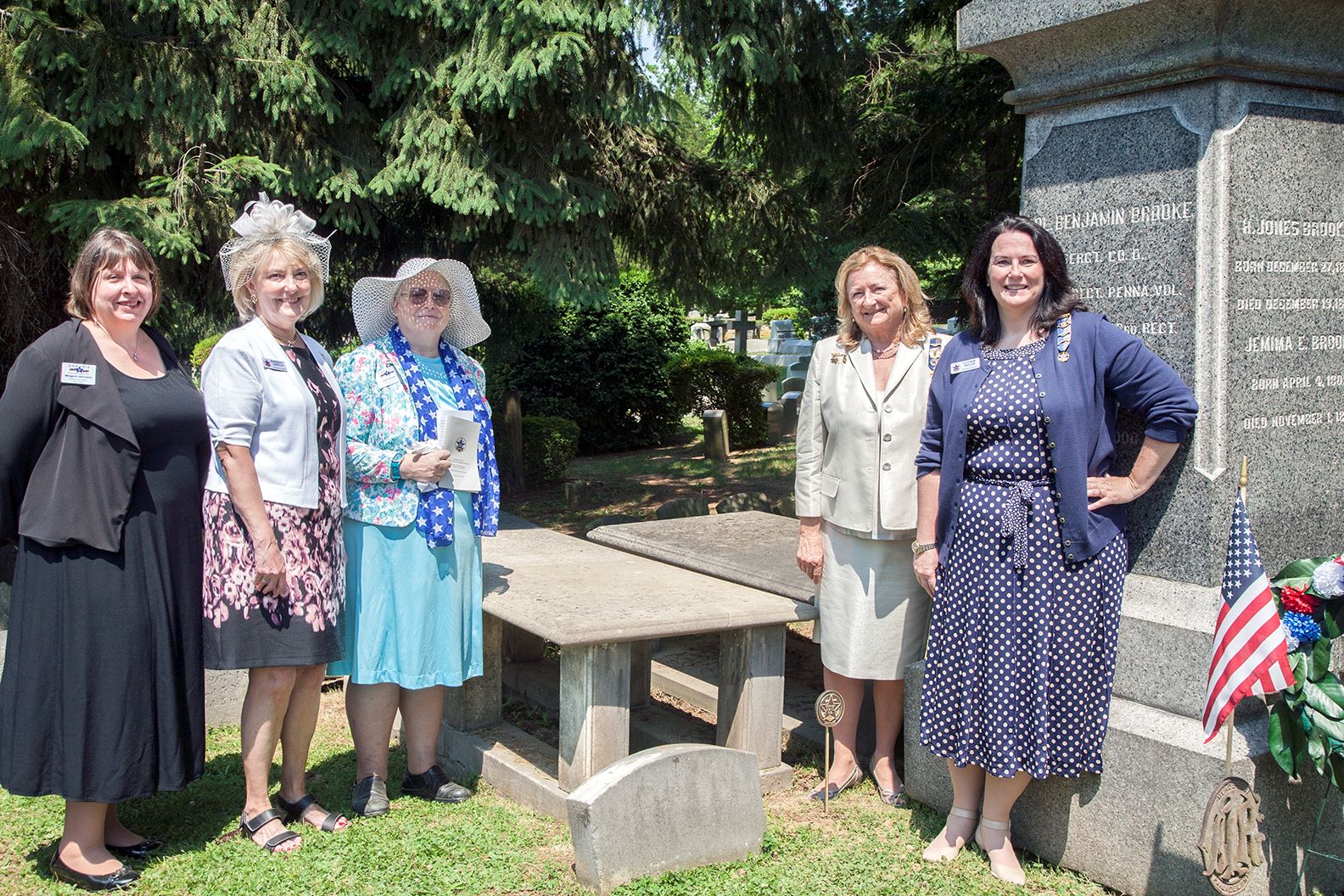 Attendees also included Daughters from the Robert Fulton Chapter in Lancaster – State Recording Secretary Margaret Skrivseth, State Librarian Barbara Greeley, and Jeanne Renkin.
Participants in the ceremony included members of several organizations. The Pennsylvania Society of 1812's Color Guard, commanded by Steve Mark, handled the colors with help from Gene Bolt and Rick & Renato Di Stefano. Former Pennsylvania Society of 1812 President Bob Marvin also attended. Tee Adams took stills and shot video of the event.
Don Pennell, a bugler from Bugles Across America, played Taps. This volunteer organization provides live buglers to play Taps at services for qualified veterans. Eugene Hough of Saving Hallowed Ground Foundation also attended. The Saving Hallowed Ground Foundation is dedicated to the preservation and protection of historical monuments. Hough worked with Jensen and youth in her family to restore the grave prior to the ceremony.
Descendants of the Brooke family came from Florida, New Jersey, North Carolina, and around Pennsylvania to attend the ceremony and the catered reception which followed.
Pvt. Brooke was born in 1778 and died in 1815. He was a member of the 65th Volunteer Regiment of the Pennsylvania Militia. This regiment, under command of Lt. Col. John Pearson, served at Camp Marcus Hook. This regiment included five companies from Chester County and were commanded respectively by Captains Wethersby, Lackey, Hartman, Harris and Campbell. Pvt. Brooke was a member of Captain James Lackey's 5th Company.
St. David's Episcopal Church celebrated its 300th anniversary in 2015. The church has a deep history, including providing shelter for soldiers of both sides in the Revolutionary War. During the grave marking, Jensen's grandson, Arch Morrison of Wayne read the poem "Old St. David's of Radnor" which was written by Henry Wadsworth Longfellow after visiting the church in 1880.