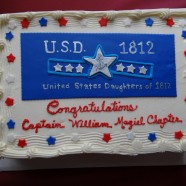 The Captain William Magill Chapter, United States Daughters of 1812 was officially charted in a November 7 ceremony that included the organization's President National and State President.
Chapter officers were inducted by the President National Jacque-Lynne Schulman, and Pennsylvania State President Irene Walker presented the chapter officers with their new charter. President National Schulman also spoke to the charter members and guests about her administration's efforts to spread patriotism around local communities by educating children and others on the historical significance of The Star-Spangled Banner. The national society's work includes promoting the Star-Spangled Banner Flag House and Fort McHenry, where our National Anthem was born.
Captain William Magill Chapter presented President National Schulman with a decorative plate featuring the Bucks County Courthouse as it looked when the Bucks County Rifle Rangers met to begin their march to Camp Dupont in 1814. The group also donated a copy of Vol. 1 of the History of Bucks County by W.H.H. Davis for the National Society United States Daughters of 1812 Memorial Library.
The newest Pennsylvania chapter brings the group to the eastern portion of the state. Though it has members from all over the region, the chartering location of Doylestown, Pennsylvania was chosen for the connection to Captain William Magill and the Bucks County Rifle Rangers who served in the War of 1812. Taking place at the historic Doylestown Inn, the chartering event was just steps away from the former hotel owned by William Magill's mother, known as Mansion House when William worked there.
The new chapter members look forward to visiting sites related to this exciting, but often overlooked period of time in local and national history, as well as spreading the word about this important era.