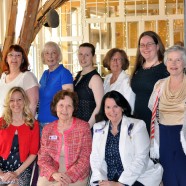 On May 9, members from around Pennsylvania met at the historic Doylestown Inn to formally organize a new chapter of the National Society United States Daughters of 1812 with Pennsylvania State President Irene Walker.
The location was fitting, just steps from the building owned by Captain William Magill who led the Bucks County Rangers, a company of 66 riflemen he raised from the area, during the War of 1812. The Rangers joined other area men around Philadelphia to keep watch along the Delaware River.
The new chapter has set up a temporary website for ladies interested in learning more about how to join. The chartering ceremony is scheduled for November 7, 2015. Initial chapter activities will include outings to regional historical locations, especially those important to War of 1812.